As an artist and pastry chef, Leah Rosenberg's world is filled with exquisite color, flavor, ideas and beauty. But what really draws me in to her (as if this wasn't enough) is her presence. She makes life feel lighter - and her endless stream of ideas and observations are a thrill to be around -_ there is so much possibility!_ And the things she creates– from paintings to cookies - are made with a kind of care you recognize as open and generous. But they are also so beautiful. You immediately want to be part of her world.
While her artwork often adopts minimalist forms like color stripes and dots, they are far more personal and generative, often referencing specific relationships, experiences and emotions. And what's really cool is how she naturally moves from making paintings to cakes (like these and this), treating both with equal import.
Part of this blog project is to ask questions to people who inspire me. Leah was gracious enough to reply to questions I sent her. I hope you enjoy her responses as much as I do. Oh, my questions are in black, her responses, naturally, are in color.
---
Color is so important in your work as both a painter and pastry chef.  When do you think you became aware of your affinity towards it?
I love mixing color.  I love to know people who have a favorite color and own many things in that color.  I love that people often leave the blue square when eating the Mondrian cake.  I love pairing colors and associating them with flavor.  I love that there are colors I don't love. 
When I lived in Vancouver I had a job at Kroma Acrylics making acrylic paint.  Our job was to make fresh paint. At Kroma we made certain colors on certain days. I loved painting the color charts.  Such a monotonous task, but such a delight with 52 charts taped up around the shop and I would go around with cerulean blue or red oxide or naples yellow.  I'm interested in color functioning as an indication of a moment or as an avenue for accessing different memories.  My favorite days there were the ones where I got to pipe the paint into the tubes by weight.  I haven't thought of it until now, the parallels.  I actually titled a show I had at True Silver last year FRESH PAINT, without even thinking about the cross over.
At the time, I was also working at a flower shop.  I didn't make very many bouquets, but I would load in the buckets of flowers and arrange them in the shop.  It was like a puzzle and like painting.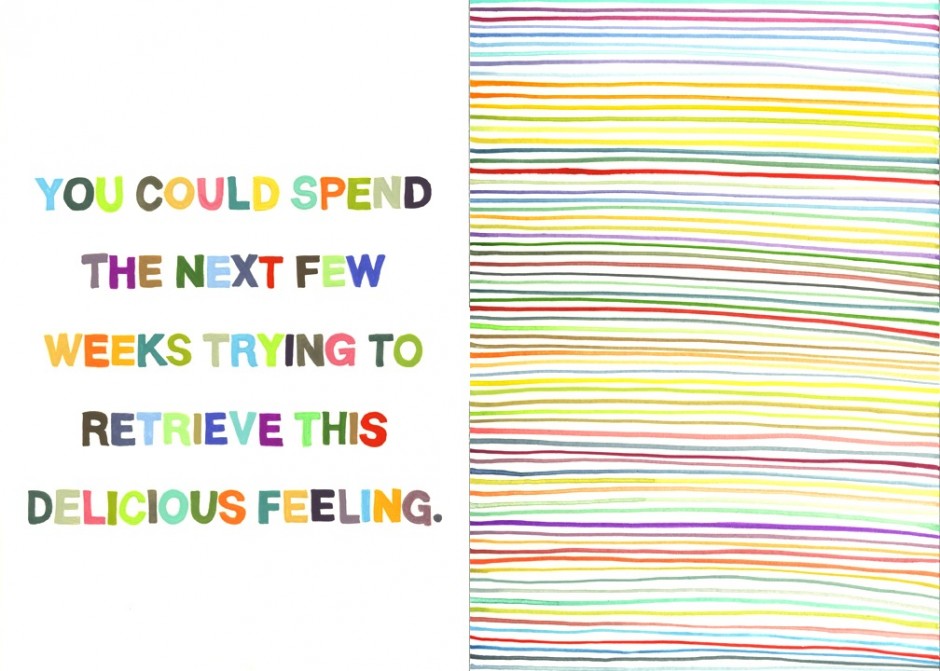 Stripes and layers take form in the cakes, paintings, plates and pinatas you've made. If money were no object, is there a place or thing you would love to create using layers and/or stripes?
The Guggenheim.  Inside and out. 
Do you have a favorite color and flavor combination right now?
We make this cake right now at work based on the Damien Hirst painting Amalymine. I love mixing cake batter color because I really feel like I'm in the studio.  I like to just select colors based on what I feel like.   Sometimes it's inspired by an outfit someone was wearing at the museum that day, or the red door of a light blue house that I passed on my bike ride in, but lately for some reason I am always trying to get this light lime/pistachio color.  For some reason right now, I dig it.   A bit more blue added to the batter gives this rich teal which I also love.   And then to think that someone is going to ingest that color combo thrills me.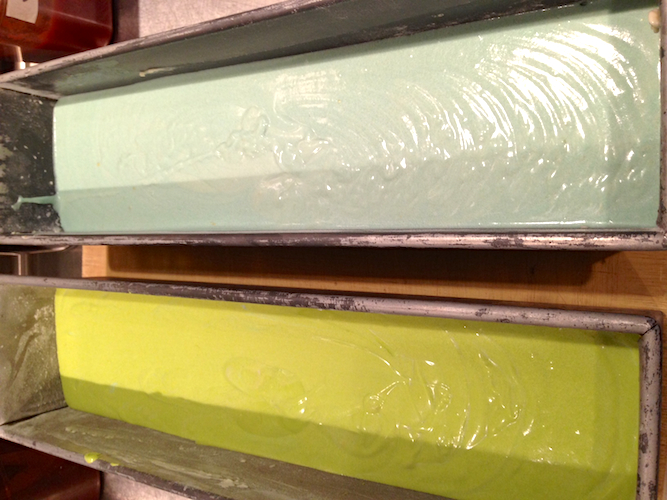 _ When do you feel most inspired?_
In the company of good people making interesting things.  Looking at art, reading recipes, listening to lectures.  I have been fairly obsessed with reading biographies lately.  Mostly of athletes and creative people.  I've noticed most people have made a name for themselves by committing __to their passions. They make by making room to be inspired through a process of sticking to a routine, committing themselves and observing the things around them without judgment.  I'm inspired by their stories, as simple as some of them are.
You wear several hats in your life right now - artist, pastry chef, blogger (what did I miss?)- what's something you are especially excited about?
The thought of covering the Guggenheim in colored stripes and making a cake about it.  That would be something to blog about! 
To be serious though, the Modern Art Desserts book just came out last Tuesday and it has been so wonderful to get to be involved in the events promoting it and getting to share some of the stories included in the book.  It is such a lovely record of some of the things we have presented up there.  The museum is closing in one month and I'm excited for what comes next.  I have been writing for www.modernartdesserts.com to share some story-based behind the scenes moments and keep people who are interested up-to-date on what we will working on during the museum closure. 
 In terms of my own artwork, I have been thinking a lot about editions and utilitarian artworks and an artist's signature.  I'm not sure if I can articulate this yet, but I'm thinking a lot lately about Andre Cadere's Barres de bois rond (Round Wooden Bars, 1970–78) – long poles made of colored wooden cylindrical units. The colors on each rod were arranged according to a system, yet each stick contained one anomaly, confounding attempts to identify the system.  These sticks were his signature.
He would attend an art opening and leave one there from what I understand.
Also thinking about Christo's wrappings.  Like thinking about how those function as paintings out in nature. I'm thinking about reaching a diverse audience and how serving a cake at a bus stop or painting a random park bench  in stripes might bring delight to someone's day. We live in a different kind of world now though,  which complicates things, but also might be even more interesting. 
I am currently working on a project for upcoming exhibition, FEAST, at the New Children's Museum in San Diego .