When Donna Conwell, curator at Montalvo Arts Center, told me about Tiffany Singh, a New Zealand artist who was coming to the Saratoga residency to hang a thousand bells in a tree on the property, I knew I had to meet her. I could imagine the visual power of the installation, but loved the thought of the sound of bells moving in the wind. Bells and chimes transport the internal state. They are reminders of time - the bell clock tower in the town square, the buzzing ring of a timer, the meditation bell - these resonant sounds ring in our ears to express the simple fact that we are alive on this earth.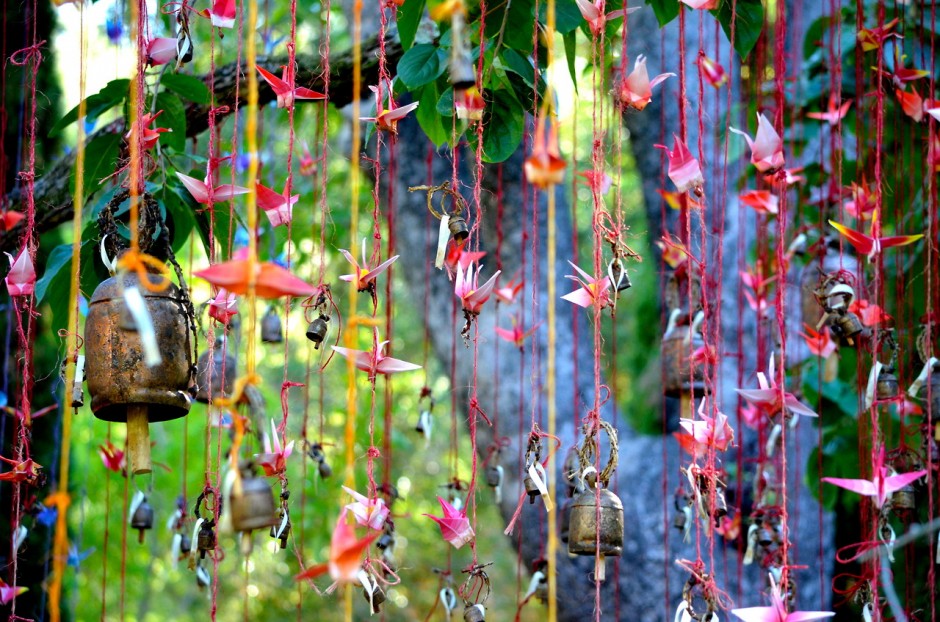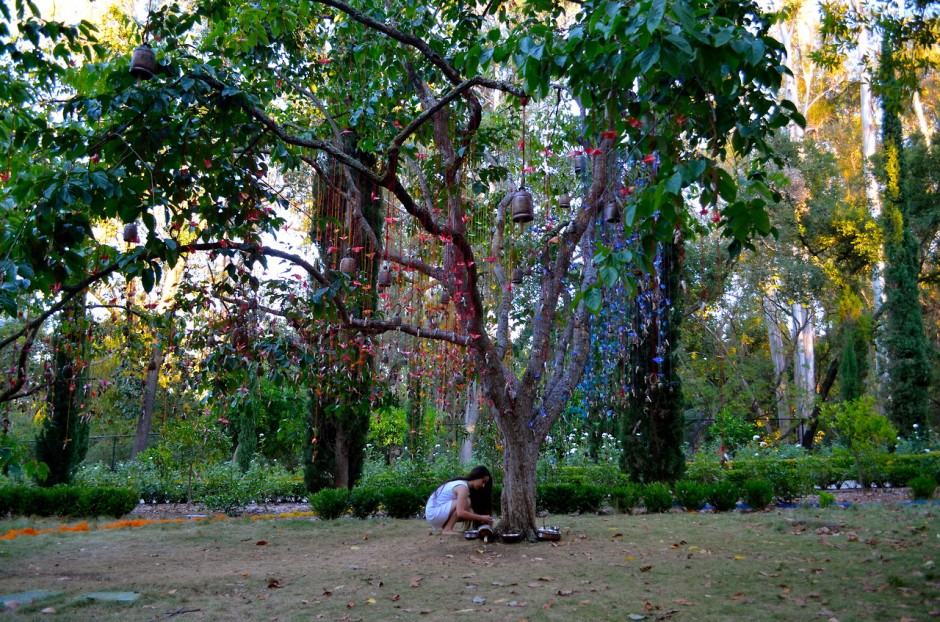 Based in Auckland, New Zealand, Tiffany Singh's "philosophies and practices encompass influences as varied as Modernism, Eastern and Western spiritual beliefs, Jungian psychology and ancient cultures." I admit, after reading her statement on her website, I was nervous to meet her. Her work, so deeply grounded and spiritual in nature, I imagined her to be the earth-goddess-mother who, while I may admire deeply, I may feel insecure with all of my earthly attachments. But when we met at an opening, she was drinking a beer, laughing joyfully and totally approachable. I knew we'd get along just fine.
Tiffany's work engages our senses in such a way that we are compelled to look inward. In a contemporary world where we  avoid dabbling in the realm of the spiritual for reasons that may be personal or political (as an atheist-leaning former Catholic, I certainly feel the inner-resistance), Singh's spaces satiate a primal desire: to gather together, participate in ritual, and be present in a moment.
This interview continues my series of conversations with people who inspire me. I'm grateful to Tiffany who kindly responded to a few questions I sent her.
---
Susan O'Malley (SO): I've been trying to think of questions for you about your work for sometime now. But when I think of what you make I'm immediately arrested by its simple beauty: bells in trees, prayer flags, wind chimes, color. Instead of questions, my mind is transported - there is an internal shift that happens. What do you think of that?
Tiffany Singh (TS): I think the nature of the work is sensual, which hopefully quiets the mind and places the relationship to the work in more of a state of spirit and feeling. This for me is a successful response. As a lot of my motivation is to to remove us from the mind and position us a connection with mindfulness. For me its an Inviting of meditation between artwork and audience, through subtle vibration fields using sound and visual mediums and often with instruments that denote spiritual space. Instruments believed to have a role in healing, through clearing and creating energy around the chosen structures or sites.
This matrix of conversation extends in a multi-vocal correspondence, and relies on various exchanges, affinities and empathies as its dynamic structure – the vascular and cellular structure and sinew becoming of a kind of living, breathing organism – from which the artworks meanings will grow rather than being dictated by myself.  It is this non linear pathway where artist and audience role is often inverted which chooses to endorse and illuminate experience and brings forth meta-conscious awareness and purpose to detail meaning and interconnection. Perhaps it is the interconnection and sensual relationship that you respond to.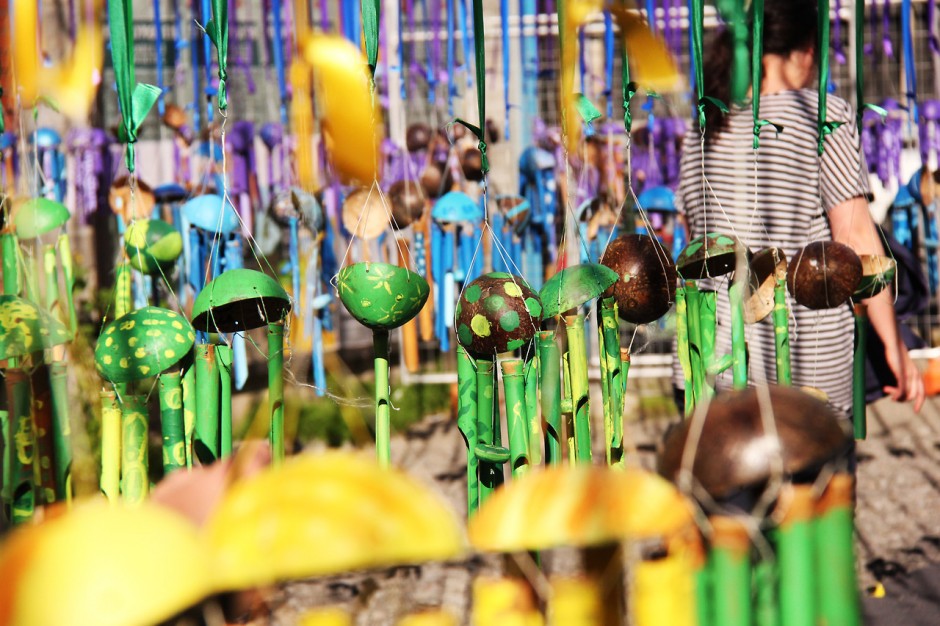 SO: The work shifts and changes and breathes as we do too - you make it look easy. I admire the kinds of spaces you make - you utilize simple materials to make visually captivating installations that transform us internally. Are there spaces/place/ideas that you draw your inspiration from and are referencing?
TS: For me it is all about using a creative gift to be useful. I'm always trying to explore how to do that through the correct channels and supporting a clean line of energy the whole way through. So fair trade has become very important. Connecting and supporting artisan communities though a social arts practice. It also becomes about an energetic exchange then too, as the love and sacred nature of materials that are traditional made and used in ceremony and ritual are strongly felt. Even when the materials are in different contexts and communities. I see myself more as a facilitator and a healer that allows me to use the medium of art to show things in a new light and allow people to feel without prescribing or enforcing myself onto them. I am also Buddhist and i feel this philosophy is apparent in my work too.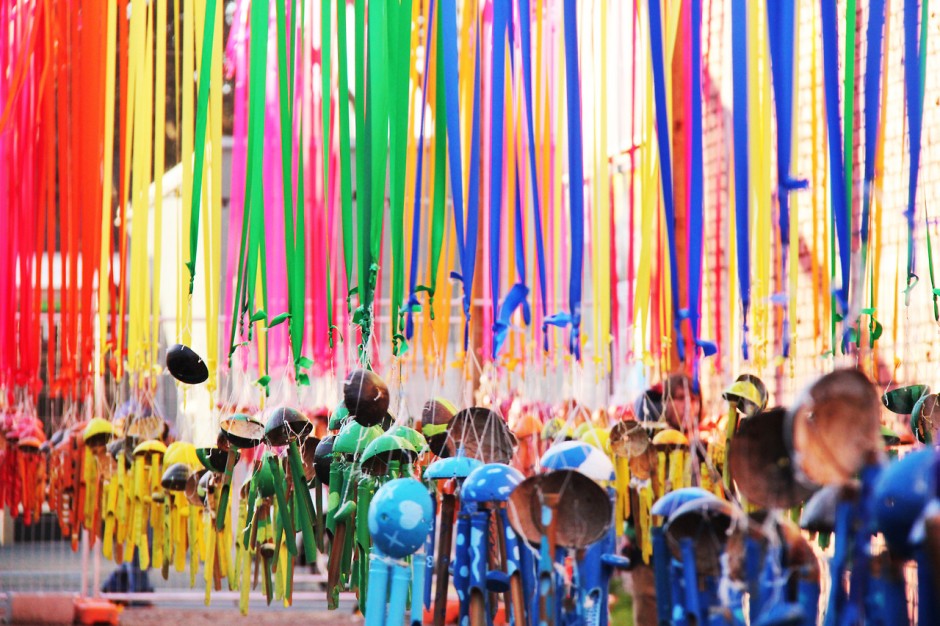 SO: Let's talk more about Buddhism. You are incredibly generous with your work. In the recent installation at Montalvo, you installed 1,000 cranes and bells in a tree and then gave them to visitors. How do you let go of the work after pouring so much into it? What is the most meaningful part of the artwork for you?
TS: This is where my Buddhist teachings come into play. My Practice teaches to firmly sit it my practice. Its about feeling everything and letting it pass, no attachment ownership or expectations. All thing shall pass. It doesn't mean it is easy. I definitely have a strong attachment to my work after spending so many labour intensive hours on it. Yet the process of giving joy and spreading notions of generosity far outweigh ownership. The most meaningful part is a tough one. Working with fair trade is increasingly important to me, it is incredibly rewarding to be able to support international artisans through creating a work of art. If I have done my job right, its all rewarding from conception all the way through the making process to handing the artwork over to be engaged with as a gift and generosity and sharing to facilitate a new work of art.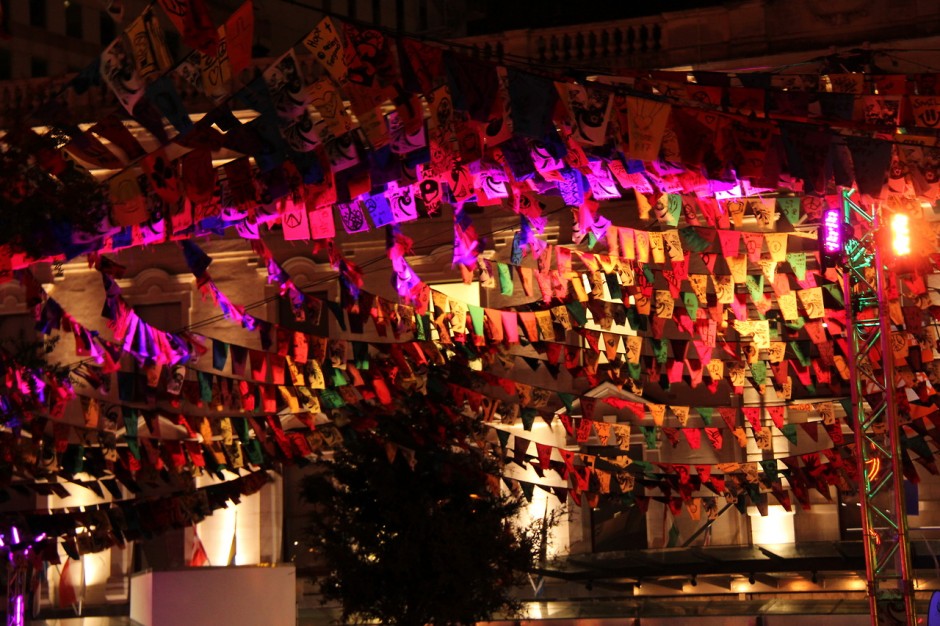 SO: The entire process is what brings the meaning to what you do, absolutely. So what are you working on now?
TS: I have been awarded the Colin McCahon residency which is a prestigious residency in Titirangi in Auckland, New Zealand. Colin McCahon was a NZ painter who talked of spirituality in his work. I am interested in using the intersection between McCahon's ideas around spirit and my own as provocation to think about our collective moral, ethical and spiritual values. There is a genuine spiritual quest within my work and I will be extending this by working with iwi and native plant medicine.
There are two threads to my current practice: generating a sacred studio space where visitors are welcomed to make bell strings for those who have passed over. It is a work addressing the pain body that is held onto in association to loss. Where conversations around community, spirit and our roles within contemporary society are prioritized through an arts practiced engaged in making a small memorial piece in a shrine line space where stories are collected and shared and contributions result in an installation alongside my own work a the end of the residency. There will be a ceremony where we burn and pass the collectively made pieces over. The second thread to my practice, is a more personal development. I will be developing my color spectrum (red, magenta, orange, yellow, green, blue, violet) and making dyes in this spectrum out of native flora, from which I will be gilding and dying skulls to rise to the notions of samsara.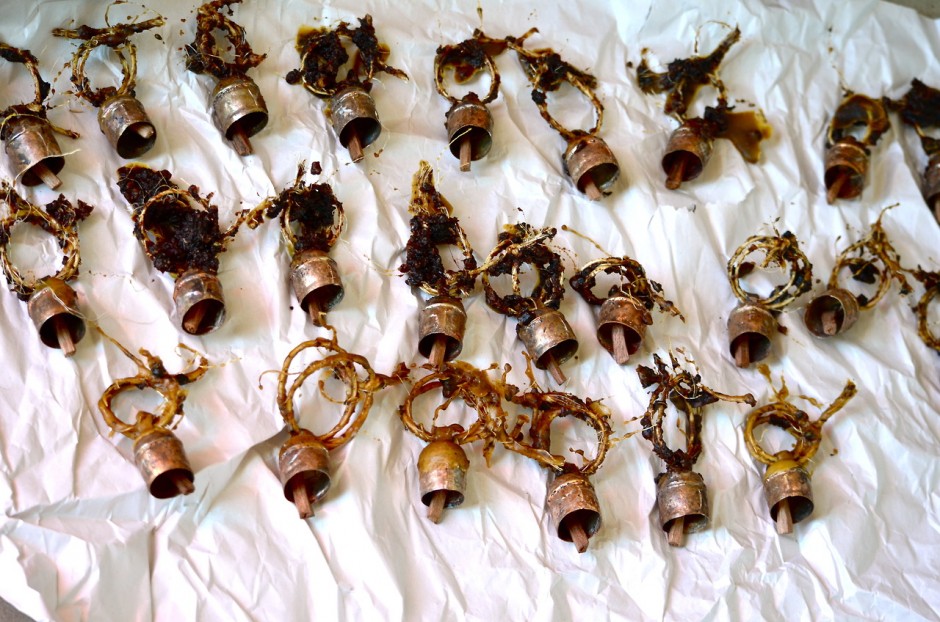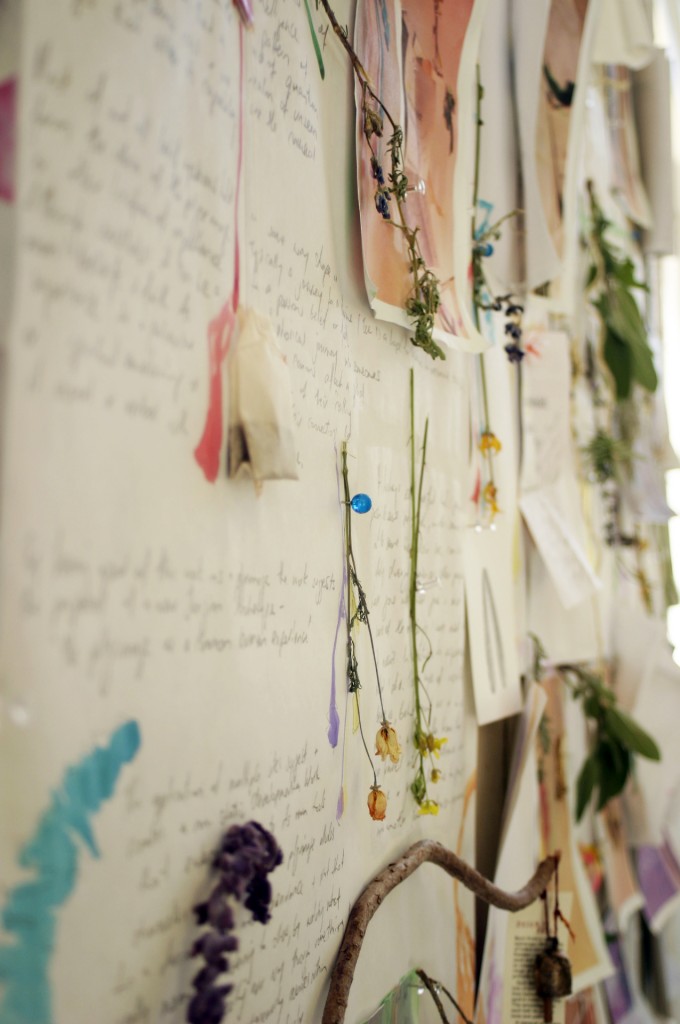 In an ideal world I will be distilling reflections on past work, which have led me to an understanding that human beings are highly dependent upon our often overlooked relationships with others and with our common world. By examining a connective and reciprocal relations model, I hope to develop new ways of working together within our changing reality. Through process or rather a collective composition within an active generation of meanings realized by all those who take part - each offering to share their stories and experiences with the local community and beyond.
SO: Congratulations on these opportunities and thank you so much for sharing. I look forward to keeping up with you on your wonderful tumblr feed.